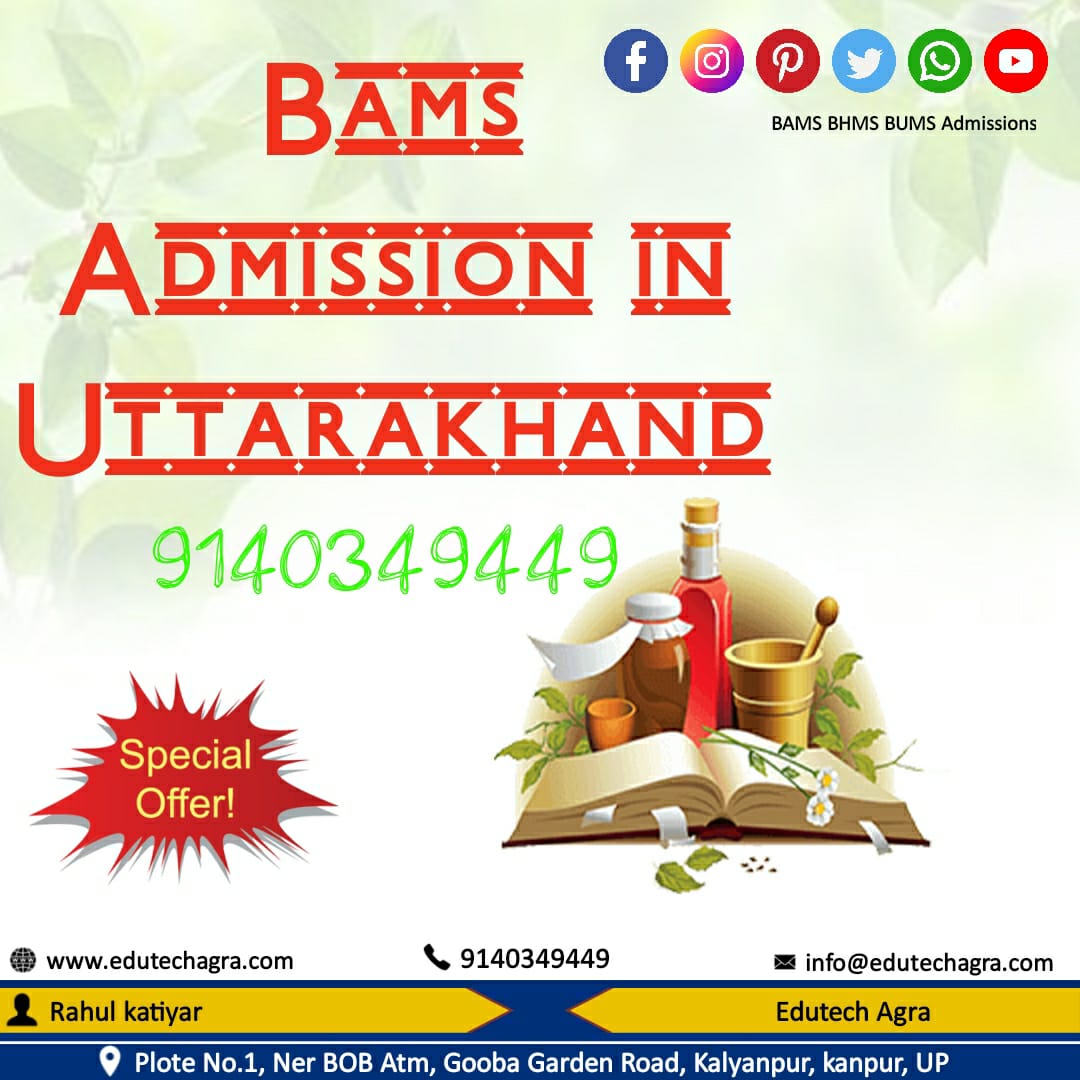 20 Sep

BAMS Admission in Uttarakhand 2023-24, Fees Structure, Colleges & Placement Details

Are you looking for BAMS admission in top colleges of Uttarakhand state for the academic year 2023-24? Now is the best time to get admission in BAMS course through our BAMS consultancy help services in Uttarakhand. There are limited seats in BAMS colleges of Uttarakhand, so hurry up as the counselling session has began as the results for NEET 2023 are already out. Connect with our BAMS admission consultant in Uttarakhand who will guide you about the whole admission process, college facilities, fees structure and placement history.

Get BAMS Admission in Uttarakhand: Phone No: 9140349449,

Email: [email protected]

Medical aspirants from Uttarakhand should not worry about their admission in BAMS courses as our consultants are present in almost every popular city of Uttarakhand. EduTech has many branches which are spread across various cities of India and our mission is to help students get admission in best ayurvedic colleges. Our team is very honest and stick to the mission until our students get admission in top BAMS colleges.
BAMS Eligibility, Duration, Age Requirements Uttarakhand 2023-24
Well, all details about BAMS course like eligibility, age, course duration must be clear to students before they opt for BAMS degree program in Uttarakhand. For the help of students we have embedded a table below which contains all information about these requirements needed for BAMS admission in colleges located in Uttarakhand.
BAMS in Uttarakhand  for 2023-2024 academic session
| | |
| --- | --- |
| Age Required For BAMS Admission In Uttarakhand | 17 Years |
| Percentage in 12th (BAMS Uttarakhand) | 12th with PCB Subjects (atleast 50 percent) |
| NEET 2023 Appeared/Qualified | Yes |
| BAMS Degree Program Duration in Uttarakhand | 5 Years and 6 Months |
BAMS Uttarakhand Documents:
Documents play an important role in the BAMS admission process as you must collect every certificate whichever is needed during admission counselling. Otherwise your BAMS admission will be cancelled if found any document missing. Just go through the list of documents which you should pack up in your folder before going for BAMS admission counselling in Uttarakhand.
ID Proof: aadhar card, Voter ID card or Passport
12th examination passing certificate
10th exam passing certificate
NEET 2023 Admit Card
Min 10-15 Passport Size Photographs
Domicile Certificate
Caste Certificate if you are applying under certain category
Physically Handicap Certificate 
Have a look at Facilities Provided in BAMS Colleges of Uttarakhand
Although all colleges which are open for BAMS admission in Uttarakhand are equipped with top class faculty with latest devices in their practical labs. Still before filling the BAMS admission form, the student must go through this list of things which must be present in the BAMS college in which they are applying:
| | | |
| --- | --- | --- |
| Boys Hostel/Girls Hostel | Hospital Building | Canteen |
| Library | Qualified Staff | High Speed Internet |
| Ayurvedic Garden  | Ambulance Services (24*7) | Security 24 hours |
| IPD Unit | OPD Unit | 24 hour Emergency Services |
| Modern Labs | Transport | Placement/Training Cell |
Benefits of Pursuing BAMS from Uttarakhand Ayurvedic Colleges:
Well if you are talking about benefits of BAMS course, then you will shocked to know that the demand of ayurvedic courses is increasing every year. And if you are pursuing BAMS from colleges of Uttarakhand state, you will benefit from the natural and peacefull environment during your course studies. Also active placement cell will guide you so that you can get placement with high packages in reputed ayurvedic companies of India and abroad. Some of the job sectors where you can get jobs after completion of BAMS from Uttarakhand are – Medical Practitioner, Doctor, Therapist and many more
We have listed some Best BAMS Colleges In Uttrakhand:
Patanjali Ayurvedic College and Hospital, Haridwar.
Quadra Institute of Ayurveda, Roorkee, Haridwar.
Haridwar Ayurvedic Medical College and Hospital,
Om Ayurvedic College and Hospital,
Motherhood Ayurvedic and Medical College,
Coer Medical College of Ayurved and Hospital, Roorkee,
Aroma Ayurved Medical College and Hospital,
Bishamber Sahai Ayurved Medical College,
Uttaranchal Ayurvedic College and Hospital Dehradun.
Himalayiya Ayurvedic Medical College,
Doon Institute of Ayurved Faculty medical Sciences, Dehradun.
Dev Bhoomi Ayurvedic Medical College Dehradun.
Beehive Ayurved Medical College Dehradun.
Shivalik Institute of Ayurved and Research,
Smt. Manjera Devi Ayurved Medical and Hospital,
Surajmal Medical College of Ayurved and Hospital,
FAQ About BAMS In Uttarakhand 2023:
Is NEET 2023 examination required for BAMS admission in Uttarakhand state?
Yes you must have appeared in NEET 2023 exam if you are considering BAMS colleges in Uttarakhand for current admission cycle.
Were can i find  Fees structure of BAMS admission In Uttarakhand for 2023-24 academic session?
For exact fees structures of BAMS colleges in Uttarakhand just contact our BAMS admission consultant as every college has a different fee structure.
How many BAMS colleges are located in Uttarakhand state?
In Uttarakhand, there are 15+ BAMS colleges.