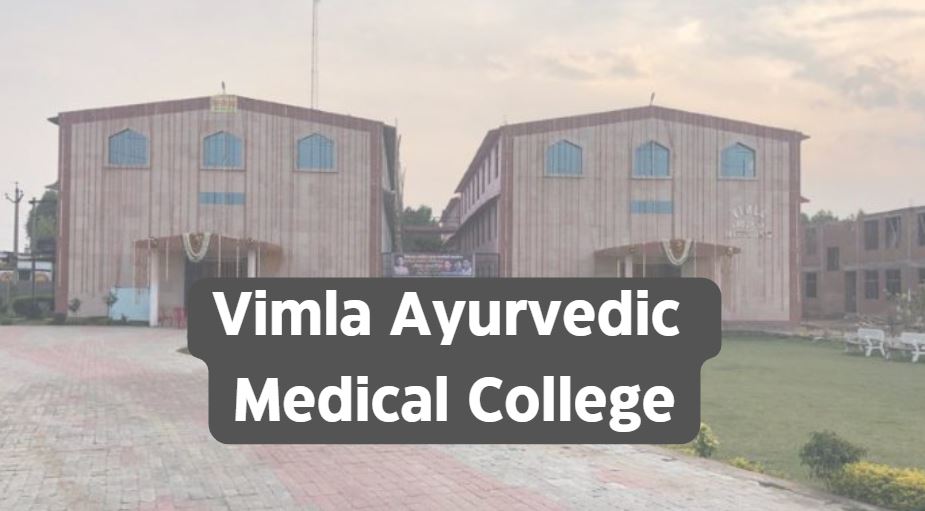 20 Jun

BAMS Admission in Vimla Ayurvedic Medical College Kanpur

Are you looking for Admission in BAMS course from Vimla Ayurvedic Medical College which is location in Kanpur city? Look no further as EduTech consultants are here to guide you for the admission procedure, fee structure, cut-off marks and facilities present in VAMC, Kanpur. B.A.M.S is the leading ayurvedic degree programme just after MBBS with a total course duration of 5 years and 6 months.
About Vimla Ayurvedic Medical Colleges
Founded in 2017, Vimla Ayurvedic Medical Colleges (VAMC) stands proudly affiliated with CSJMU, Kanpur, overseen by the esteemed Ministry of Ayurveda. Revered as one of the finest institutions for ayurvedic education in the entire Kanpur vicinity, VAMC welcomes aspiring individuals to embark on their educational journey in the esteemed BAMS degree programme. With an unwavering dedication to revolutionizing the healthcare industry, VAMC, Kanpur, aspires to impart students with top-tier education, complemented by invaluable hands-on experiences. Despite its private status, this Ayurvedic college boasts unparalleled educational excellence when compared to other esteemed BAMS institutions in Uttar Pradesh.
BAMS Admission 2023
As the NEET 2023 results are out there are numerous students waiting for the admission counselling process in Vimla Ayurvedic Medical College. Our consultants have an experience of more than 10 years and know every aspect of BAMS admissions in Uttar Pradesh. In the past also more than 100 students have taken our guidance to get admission into top BAMS colleges across India.
| | |
| --- | --- |
| Course | BAMS (Bachelor of Ayurvedic Medicine and Surgery) |
| Type | Graduation [Degree Program] |
| Duration | 5 Years and 6 Months [Including 1 year of compulsory internship] |
| Eligibility | 50% in 10+2 with PCB as main subjects |
| Admission Procedure | NEET-UG Qualified |
| Required Age | Minimum 17 Years |
| Fees Structure | Varies according to the college |
| Job Opportunities | Scientist, Phamacist, Doctor, Teacher, Therapist, Lecturer, Gynaecologist, Health Consultant |
Eligibility Criteria For BAMS in Kanpur
Now, let's look at the exact eligibility criteria for the admission procedure for the BAMS course.
The main educational requirement for BAMS admission in Kanpur is that a student must have passed 10+2 with a minimum of 50% marks from any recognised education board [CBSE, ISCE, State Boards, or any equivalent recognised board].
For SC, ST, and OBC, there is a concession of up to 40%.
The NEET-UG entrance exam is compulsory for all medical aspirants, as ayurvedic college admissions are based on the state-wise cut-off marks.
The candidate must be at least 17 years of age at the time of admission counselling.
Fees Structure
Greetings, fellow seekers of knowledge! As you embark on your journey to pursue your passion for BAMS at Vimla Ayurvedic Medical College, it's essential to keep in mind that fee structures can vary among different institutions, but fear not, for they are considerably lower compared to MBBS courses. So, here's the scoop: the estimated range for BAMS course fees typically falls between INR 1,50,000 to INR 3,00,000. But hold on, that's not all! Besides the educational fees, there may be additional charges to consider, such as student ID card fees, examination fees, or other miscellaneous activity fees that may or may not be part of the total package. But fret not, my friends, for our consultancy team is well-prepared to guide you through the intricate details of fee structures, ensuring you possess all the necessary insights to make informed decisions about your educational investment.
Career Opportunities After BAMS Course:
BAMS is a professional course with a high scope in medicinal field as well as other fields too. Here are a few career options for those who don't know what to do next.
Lecturer
Scientist
Therapist
Pharmacist
Ayurvedic Doctor
Modern Medication
Gynaecologist
With a Bachelor of Ayurvedic Medicine and Science degree, graduates can earn a handsome monthly salary. At EduTechAgra, we guarantee top ayurvedic college admissions for our students. Our expert consultants provide comprehensive guidance at every stage of the counselling process. With a proven track record of helping numerous students secure admissions in reputed ayurvedic colleges across India, our team is dedicated to ensuring the success of our students
BEST ADMISSION COUNSELLING SERVICES
CALL US NOW: 9140349449