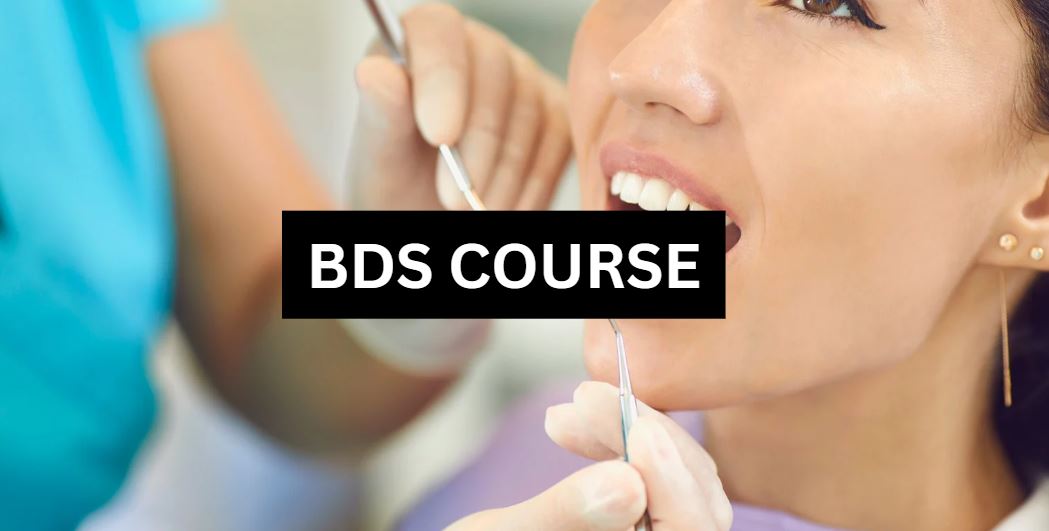 12 May

BDS Admission 2023- Eligibility, Syllabus and Fee Structure

BDS Admission 2023: BDS, the acronym for Bachelor of Dental Surgery, is an extensive 5-year undergraduate program meticulously governed by the esteemed Dental Council of India (DCI). For those aspiring to embark on a dentistry career within the Indian domain, the BDS course is an absolute imperative. Its comprehensive curriculum delves deep into the intricacies of dental science and surgery, forming the bedrock of this program. Spanning a total duration of five years, it encompasses a mandatory one-year internship, a vital component for every BDS student. The admission process for the B.D.S. course in India follows a straightforward path, necessitating the successful qualification of the NEET-UG 2023 examination.
About BDS Course
Now let's discuss what exactly is inside the curriculum of the BDS undergraduate programme. In the BDS course in India, the main thing you will learn about is dental surgery for about 5.5 years. During their 1-year internship, the dental students have to work on live patients under the supervision of their senior doctors to learn the practical aspects clearly. 
As the course is divided into four years, the first year consists of studies in human Anatomy, Ostealogy, Embryology, Human Physiology, Biochemistry, Dental Anatomy and Dental Histology.
In the 3rd year, the syllabus consists of subjects like Dental Pharmacology, Dental Materials, Pathology, Microbiology, Pre-clinical prosthodontics and Pre-clinical operative.
The third year consists of Oral Pathology, General Medicine and General Surgery.
During the final 4th year, the dental students will learn more about Oral Medicines, Radiology, Prosthodontics, Oral and Maxillofacial Surgery, Pedodontics, Endodontics, Orthodontics, Periodontics, Preventive and Community Dentistry.
BDS Admission Highlights 2023
As we all know, the NEET-UG 2023 exam has already been completed on May 7, 2023, so students across all over India are waiting for the examination result so they can apply for admission to the best dental colleges. We at EduTech Consultancy have more than 10 years of experience and have facilitated B.D.S. admission for hundreds of students, which helped them secure placements in reputed hospitals. Be it the first round of counselling or any stage of dental course admission, our medical consultants are available at every stage of the admission process.
| | |
| --- | --- |
| Course | BDS (Bachelor of Dental Surgery) |
| Type | Graduation [Degree Program] |
| Duration | 5 Years and 6 Months [Including 1 year of compulsory internship] |
| Eligibility | 50% in 10+2 with PCB as main subjects |
| Admission Procedure | NEET-UG Qualified |
| Required Age | Minimum 17 Years |
| Fees Structure | Varies according to the college |
| Job Opportunities | Dentist, Doctor |
Eligibility Criteria
Now, let's find out who are eligibile for BDS admission across Dental colleges in India:
For BDS in India, the candidates must have got a minimum aggregate of 50% in their 10+2 examination with PCB subjects (Physics, Chemistry, and Biology).

Although 50% is the requirement for general candidates, if you are from any reserved category, a 40% aggregate is enough.

Minimum Age Requirement: 17 Years

Maximum Upper Age Limit: 25 years
Fees Structure
Now, all doubts about the BD admission process must be cleared, but you are interested in knowing the actual fee structure of dental colleges. Although the fees vary a lot from college to college, for an estimate, they will be between 1 lakh and 6 lakh per year, which totally depends on the college's facilities and infrastructure. Also, our consultancy has tie-ups with leading dental colleges, so your future is 100% safe and secure.
Required Documents:
NEET-UD Admit Card and Score Card
10th Marksheet Certificate
10+2 Marksheet and Passing Certificate
Transfer Certificate
Identity Proof – Aadhar Card, Passport or Voter ID
Migration Certificate
Community Certificate, if required
Medical Certificate, if required
10-12 Passport Sized Photographs
Career Opportunities After BDS Course:
BDS is dedicated programme in the field of dentistry, so career options are also vas here if you want to dedicate your 5 years in this educational course.
Dentist: After completion of the BDS course, the students can work as dentists in hospitals and reputed dental clinics. Don't worry about the salary of a dentist, as the earnings are excellent in this career segment.
Researcher: A BDS student can also choose to become a researcher in the field of dentistry, as many problems are faced by people. If you have a zeal to find innovative solutions in the dentistry sector, you can work for research companies to enhance your learning curve and receive an excellent salary package.
Dental Clinic: If you have an urge to become an entrepreneur after your BDS course, then you can choose to open your own dental clinic, as after your BDS, you are eligible to work as a dentist. We are all aware of how much a dentist earns; this is not a hidden fact. Their earnings are more than a crore per year. So it's an exciting career option in which you are a self-employed business owner in the same dentistry sector.
So the conclusion is that salary packages are excellent after completing Bachelor of Dental Surgery. So what are you waiting for, simply call our medical consultant to confirm your admission in BDS course in top collges.
BEST BDS ADMISSION COUNSELLING SERVICES
CALL US NOW: 9140349449