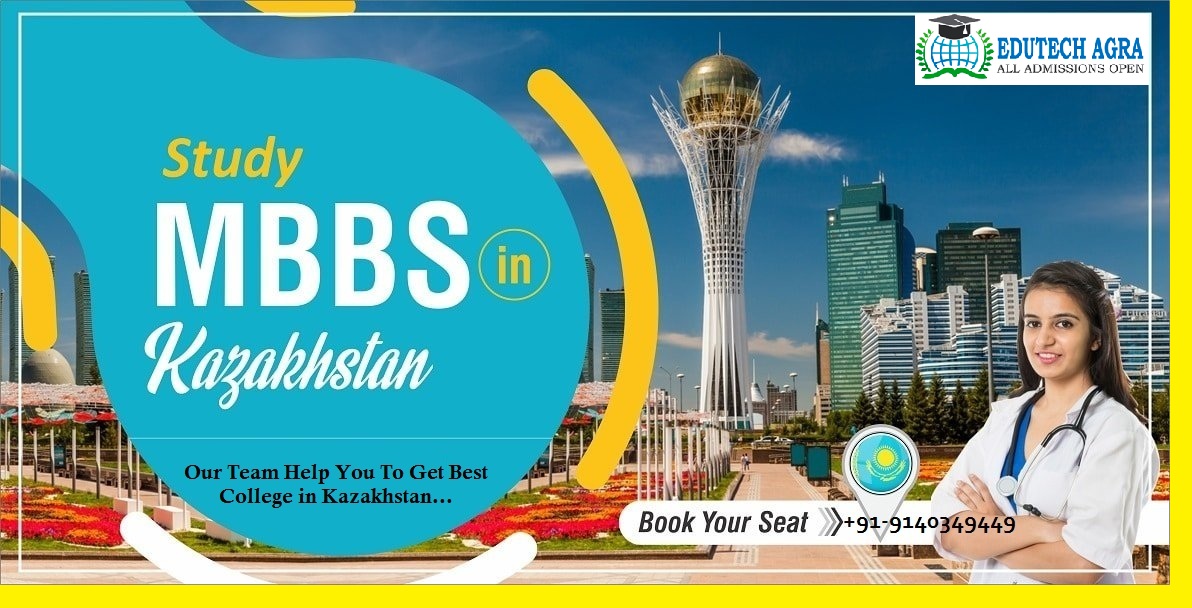 26 Apr

MBBS in Kazakhstan 2023-24: Admission Process, Fees & Eligibility

Are you looking for an MBBS in Kazakhstan for the academic year 2023? Then, you have landed at the right place. Here, you will get full information about medical colleges in Kazakhstan, like their admission process, fee structure, facilities, and placements after course completion.

All medical courses in Kazakhstan are recognised and regulated by governing bodies like the IMED, GMC, and USMLE. This country has become one of the best destinations for Indian students to pursue their dreams of becoming MBBS doctors. If the educational part is given top priority, then MBBS universities in Kazakhstan offer high-quality education that helps a student gain a thorough understanding of the medical subject matter. If we go by numbers, then according to the latest stats, 4500+ students enrol in the MBBS degree programme here every year. So Kazakhstan has become the top destination for medical aspirants from India who are searching for MBBS courses at abroad colleges.

Also, there is no tight limit on the marks obtained by students in their 10+2 examinations, as a minimum of 50% is enough to become eligible for admission. The fee structure of MBBS colleges is also quite reasonable and can easily fit into the budgets of medical candidates from India and other foreign countries. So, without giving a second thought, simply connect with our admission consultant to get confirmation of admission for the MBBS course in Kazakhstan.
MBBS in Kazakhstan Highlights 2023
Required Scores: Atleast 50% in 10+2 [40% for SC/ST]
Entrance Exam: NEET exam is compulsory for the admission
Fees Structure: 4000 – 5500 USD per annum (Approximate)
Hostel Fees: 200 – 250 USD (Per Month), Varies according to your college facilities
Course Duration: 5 Years + 1 year of internship
Medium of Education: English
Regulated by: NMC, WHO
Top Colleges/Universities: South Kazakhstan Medical Academy, West Kazakhstan Marat Ospanov State Medical University
MBBS Admission Process In Kazakhstan:
The procedure of admission for the MBBS course in Kazakhstan is not very complex, as the medical universities present there have made it really simple. Also, after completion of the MBBS degree programme, there is a huge scope for placement in leading companies in the medical sector. The fee structure for MBBS study in Kazakhstan is also reasonable, which doesn't break your budget, as various scholarships are also available to students who have scored higher marks in the entrance examination.
Pursuing an MBBS course in India from the best colleges is the dream of every medical student, but sometimes, due to a lack of funds or lower cutoff scores, they have to give up. So for getting the same level of education on a low budget, Kazakhstan is one of the most recommended destinations. The facilities available here are quite affordable, and you have to follow a few steps to get admission into these top medical colleges:
At first, the candidates have to fill out the application form of their preferred university or medical college, as an acceptance letter is required for the processing of the admission letter.
Once you have received the letter for MBBS admission, submit your passport for verification purposes for the visa approval process, which will be processed by the Embassy of Kazakhstan, which is located in the capital city of India, New Delhi. We all know sometimes the embassy calls for an interview, so the candidate must be present whenever the officials call for further processing.
Once the interview is done, The Embassy will inform you once they are done processing your visa application and the stamping process.
At the next step, once all the documents are ready for travel, agency consultants will pick you up in Kazakhstan and guide you through the accommodation process, and you can pay the remaining fees there to start your MBBS classes.
Eligibility Criteria For MBBS in Kazakhstan:
Here is the list of eligibility criteria points that medical aspirants from India should be aware of:
The minimum required age for enrollment into an MBBS course in Kazakhstan is 17 years, and there is no age relaxation under any category.

The candidates must have cleared their 10+2 examination with at least 50 percent marks, where the required subject combination is physics, chemistry, and biology. However, if you belong to categories like SC, ST, or OBC, you are eligible if your scores are above 40%.

As per the entrance exam, the student must have qualified the NEET-UG 2023 exam with marks above the cutoff.

The student must possess a valid passport, as it is the only ID-proof document that is eligible at all locations.
Required Documents
If you have made up your mind to pursue MBBS from abroad, simply collect all the required documents listed below, as they will be submitted at the admission procedure in Kazakhstan.
10 and 10+2 marksheets and passing certificates
Original Passport (a photocopy of the passport will be required for submission)
6–10 passport-sized photographs (keep more as they may be required in other relevant forms)
PCC [Police Clearance Certificate] is a must for every foreign student.
A bank statement also needs to be submitted, as it will show how healthy your finances are to pay the full medical course fee along with other expenses.
Stamped VISA
NOC (No Object Certificate)
All these documents are more than enough to enter the country, but if any further documents are updated for pursuing MBBS course in the current academic year 2023–24, our consultants will let you know.
Benefits of Studying MBBS From Kazakhstan
Now let's talk about the advantages of taking an MBBS course in Kazakhstan. One of the top benefits is that students get advanced medical education in accordance with international educational standards. If your budget is tight, then without breaking your pocket, you can pursue your dreams of becoming an MBBS doctor with an affordable fee structure.
Medical colleges in Kazakhstan have highly qualified medical experts who have thorough knowledge about the subject. Along with education, the placements are relatively high here according to industry standards, which makes a student feel tension-free after their immense work of 5 years.
The universities are also recognised by the NMC, which serves as a regulator body for medical institutes here. You get to learn more about secondary languages like Russian and Kazakh, but the primary mode of teaching is only English.
Also, after the completion of the 1st year of the course, in the 2nd year, he or she will get the opportunity to work as a medical practitioner in a local government hospital, which provides practical experience to students.
Accommodation facilities are also great here at reasonable prices for foreign students in comparison to other countries in Europe like the UK or Germany. Of course, the students can also visit their home country during college vacations. Indian food is also easily available across the country, and it will be difficult for a few students to live without it.
Frequently Asked Questions
What is the fees structure of enrolling into MBBS course in Kazakhstan?
Listen up, folks! If you're considering pursuing an MBBS course in the beautiful land of Kazakhstan, it's crucial to have a solid grasp of the financials. Now, here's the lowdown: typically, the tuition fees for MBBS in Kazakhstan fall in the range of 3500 to 5500 USD per year. However, do keep in mind that these numbers can vary depending on the perks and facilities offered by the university of your choice. So, it's best to be in the know before you make any decisions!
What is the hostel fees in MBBS colleges of Kazakhstan?
Now, when it comes to the cost of staying in the dorms at MBBS colleges in Kazakhstan, we're talking about an estimated range of 500 to 800 USD per year. But hold up, peeps, this is just a ballpark figure! For the latest and most accurate info on hostel fees, I'd highly recommend reaching out to our trusty admission consultants. They'll hook you up with the full scoop on the current structure, so you're in the loop and ready to roll!
What is the estimated fees of 5 year MBBS course in Kazakhstan?
Now, when it comes to the total expenses for an MBBS course in Kazakhstan, there's some flexibility in the numbers. It all boils down to the facilities offered by the universities. But here's the deal: you can expect a fee range anywhere from 15 to 25 lakh for the full MBBS course. It's important to keep in mind that these figures may fluctuate depending on the bells and whistles provided by the respective institutions. So, stay in the know and plan your budget accordingly, peeps!
What is the job scope after completing MBBS degree program from Kazakhstan?
Get this: not only do you have access to internal placement fairs right on campus during your MBBS program, but you can also land some seriously sweet gigs with top-notch companies outside the university grounds. That's right, peeps! The opportunities for higher packages are real and waiting for you beyond the campus borders. So, keep your options open and aim for the stars in your career!
MBBS Options For Students in Other Countries