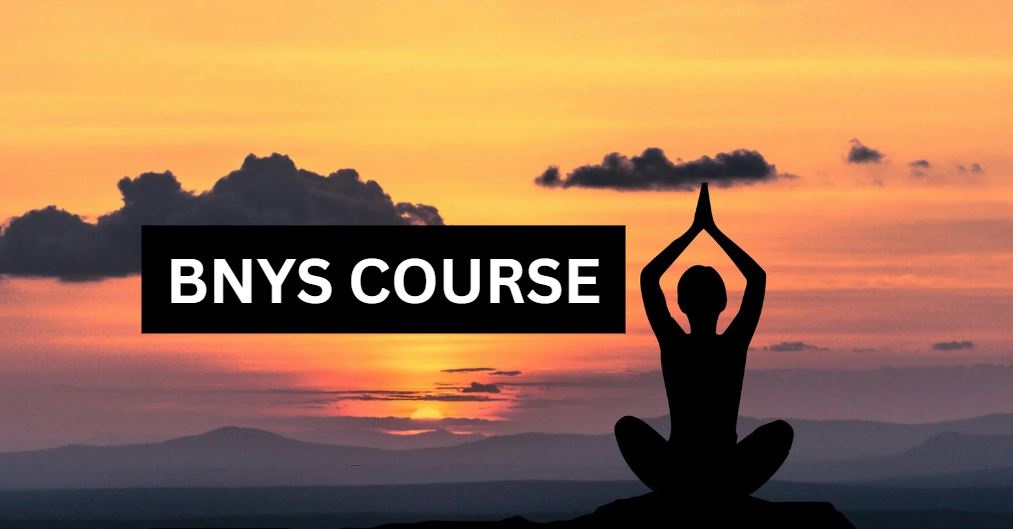 13 May

BNYS Admission 2023- Eligibility, Fees Structure & Course Details

BNYS Admission 2023: If you are interested in naturopathy and yoga, the BNYS (Bachelor of Naturopathy and Yoga Science) is the best undergraduate degree programme for you. This B.N.Y.S. programme is a 5.5-year course in which students learn in depth about Yogic science and Ayurveda. The admission procedure for the BNYS course is based on the candidate's performance in the NEET-UG 2023 examination. The career options are also vast for candidates who are thinking of applying for the BNYS course in India, like yoga trainers, naturopathy doctors, ayurvedic researchers, and physiotherapists.
About BNYS Course
BNYS, short for Bachelor of Naturopathy and Yogic Science, spans an expansive 5-year and 6-month journey, graciously accommodating an internship program within its curriculum. While the very essence of this course is rooted in the realm of naturopathy and the wondrous world of yoga science, it ventures beyond those boundaries to explore captivating subjects of specialization such as dietetics, acupuncture, herbal medicine, aromatherapy, homoeopathy, and reflexology.
BNYS Admission Highlights 2023
With the much-anticipated release of the NEET-UG 2023 examination results, a wave of eager medical enthusiasts is now on the prowl for the finest BNYS colleges in India, yearning for a brighter tomorrow filled with boundless opportunities. Catering to the aspirations of these aspiring medical prodigies has been the noble mission of our consultancy for over a decade.
From comprehensive admission counseling to meticulous form filling, we extend our unwavering support to students at every juncture of their educational journey. What's more, we proudly boast valuable affiliations with prestigious institutions that offer the esteemed B.N.Y.S. degree program, enabling students to embark on a transformative path towards success.
| | |
| --- | --- |
| Course | BNYS (Bachelor of Naturopathy and Yogic Science) |
| Type | Undergraduate |
| Duration | 4.5 Years + 1 Year of Internship |
| Eligibility | 50% in 10+2 with PCB as main subjects |
| Admission Procedure | NEET-UG Qualified |
| Required Age | Minimum 17 Years |
| Fees Structure | 2 Lakh to 6.5 Lakh |
| Job Opportunities | Naturopath, Ayurveda Consultant, Clinical Specialist, Yoga Trainer, Ayush Practitioner, Researcher, Nutritionist |
Also Read About- BAMS Course
Eligibility Criteria
Now, let's look at the exact eligibility criteria for the admission procedure for the B.N.Y.S. course.
To be eligible for the BNYS course, the candidate must be at least 17 years old, as that is the minimum age required at the time of admission counselling.

In the 10+2 examination, the student must have secured 50% aggregate in the three main subjects: physics, chemistry, and biology.

The upper age limit for the BNYS course in India is 25 years; above that, there is no concession for admission.

If you have fulfilled all the above eligibility criteria, then you must be aware that the NEET-UG qualification is also compulsory to appear in counselling.
Fees Structure
Hello, medical candidates! If you are interested in pursuing a BNYS course in India, then the fee structure can be different according to the location of the college and the facilities present there. Although it's quite cheaper than the MBBS course. However, there is nothing to worry about with the fees, as currently many private and government banks provide educational loans at very low interest rates, so the students can complete the course without thinking much about the burden of fees as it gives them enough time for payment.
Generally, the fees fall in the range of 2 lakh to 6.5 lakh per annum for BNYS studies. Also, there may be some extra charges, like exam fees, ID fees, and other fees related to college activities. So if you have a dream to become something in the yogic field, just opt for this course and earn a decent salary package in the future.
Career Opportunities After BNYS Course:
BNYS is a professional course with a high scope in yogic field as well as other fields too. Here are a few career options for those who don't know what to do next.
Naturopath: The best career option for a student after completion of the BNYS course is naturopathy. As this job sector is related to wellness, in which the main concentration is to balance a healthy lifestyle. With your learnings from the course, you can guide people to live a healthy life by including a healthy diet, sunlight, stress management, and other activities.
Ayurveda Consultant: Becoming an ayurvedic consultant is also a rewarding career because it helps clients make long-term health and lifestyle changes. In ancient times, ayurveda was highly used to enhance people's lifestyles, and now it is also gaining traction as more people are leaning towards these medical treatments. You can choose to work in an ayurvedic hospital or work independently.
Yoga Trainer: In this stressful world, more and more people are choosing yoga to attain a healthy lifestyle. You can choose to work as a yoga trainer to guide people. And don't worry about the salary package, as many reputed yoga centres are providing a decent salary package for qualified students. Also, you can open your own yoga centre if you want to work as a self-employed person.
Some more career opportunities are as an Ayush practitioner, researcher, nutritionist, and clinical specialist. So as per package is concerned it is quite high but graduates can also pursue post graduate program from NMIMS in healthcare management.
Armed with a coveted Bachelor of Naturopathy and Yogic Science degree, graduates are poised to reap the rewards of a generous monthly remuneration. At our esteemed consultancy, we take immense pride in our unwavering commitment to securing top-notch admissions for aspiring scholars in the realm of BNYS. Our seasoned consultants, renowned for their expertise, leave no stone unturned in providing comprehensive guidance throughout the counseling process.
Bolstered by an enviable track record of aiding countless students in securing coveted seats in esteemed Ayurvedic colleges scattered across the vast expanse of India, our dedicated team works tirelessly to ensure the resounding triumph of our beloved students.
BEST ADMISSION COUNSELLING SERVICES
CALL US NOW: 9140349449