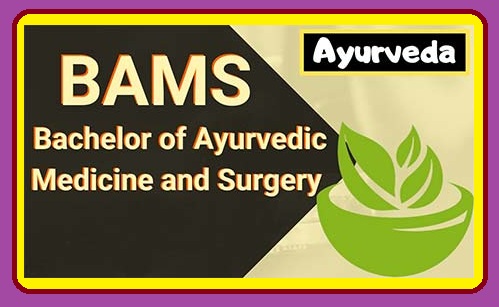 23 Feb

BAMS Admission In UP

Want to get admission in best BAMS colleges of UP for the current session 2023-24? Our experienced BAMS consultants will provide all details like top BAMS Colleges of UP (Uttar Pradesh) , BAMS course fee, College Infrastructure, Address, Hostel Facilities along with placement scenario.
BAMS Course
One of the most preferred course for medical aspirants which is chosen as an alternative for MBBS is BAMS. BAMS is just the opposite of modern allopathic medicines and treatments. The BAMS degree program consists of studying the use of natural ayurvedic medicines for treating and curing diseases along with providing natural therapy based treatments which don't have any side effects in the longer run.
The Full BAMS course in 2024 is of a duration of 5 year & 6 months which consists of a 4 and half years of main course and last 1 year of training in corporate sector. After the completion of BAMS course the colleges in UP the students can go for placement drives which are being organized by the top BAMS colleges of UP (Uttar Pradesh).
Looking For BAMS Admission in UP (Uttar Pradesh) for Current 2023 Session?
BAMS College Facilities, Fees Structure, Hostel & Infrastructure
The top BAMS colleges in UP (Uttar Pradesh) which are provided by our consultant for admission session 2022-23 have good infrastructure with hostel facility for boys and girls.
The BAMS college in UP have a separate section/building for providing hospital facilities to the local residents as well student can gain practical knowledge by getting exposure to the real treatment procedures.
The laboratories in BAMS colleges of UP have highly tech devices and machines which are imported from top medical healthcare companies.
The BAMS colleges also provide ambulance services across the city for any kind of emergency situations.
The BAMS colleges have an independent training and placement cell which take care of the student so they can get job offers in top medical companies.
The colleges have a ayurvedic garden where more the 200 medicinal plants and species can be found which are used in treating many diseases and have less side effects then the allopathic medicines.
The hostel in BAMS colleges have in built canteen/mess facility which provides hygienic food.
The fees structure of BAMS colleges in UP (Uttar Pradesh) is not so high and for knowing the full details about fees for admission session 2022, you can consult with our experts.
Documents And Eligibility for BAMS Admission UP Session 2023
The medical aspirants for BAMS admission session 2022 should be of Min 17 years of age, however some relaxations are given to some special categories.
The students must have scored atleast 50 percent for the BAMS admission session 2023.
The 50% is required in PCB subjects in 12th class.
NEET Score Card, Admit Card.
The documents required for admission in BAMS colleges of UP are identity proof like aadhar card, voter ID or passport. 10 and 10+2 passing certificates are also needed at the time of BAMS counselling. If you are opting for some special category you need to provide certificates like SC/ST or backward class.
Job Scope after Completing BAMS Course:
As there is rise in the health care sector day by day and people are becoming aware of the natural methods for treatments as they are more effective in longer run, so there are many job available for student and they can opt for respective field according to their choices. Although we have listed some of the job fields below:
BAMS Doctor
Clinical Experts
Scientist
Spa Specialist
Ayurvedic Pharmacist
Therapist
Teaching
FAQ About BAMS Admission In UP :
What is the min percentage required for BAMS admission session 2023 in UP?
The min required percentage for BAMS admission in UP is 50% but there are some relaxations provided for some special categories.
What is the full duration of BAMS course in UP (Uttar Pradesh)?
5 Years & 6 Months including 1 year of internship
Is NEET compulsory for BAMS admission session 2023 in UP?
Yes NEET score card is required at the time of counselling session in UP. But there may be some seats available for direct admission in some popular BAMS colleges of UP.
Can i get placed easily after pursuing BAMS course from Uttar Pradesh?
Yes many top colleges provide placement assistance services for BAMS students in UP and there are 90% chances that you may be placed in reputed organizations in health sector but it will also depend on your overall performance in BAMS degree program.
Is there any possibility to get direct admission in BAMS course in UP?
Yes you can get direct admission in BAMS course in UP, Uttar Pradesh but it depends on the college and for that you have to connect with our consultant for guidance.
In which city of UP can i get admission for BAMS course?
In Uttar Pradesh, UP state there are many popular cities like Lucknow, Kanpur, Agra, Meerut, Noida, Aligarh, Varanasi, Moradabad, Ballia etc where you can study BAMS course.
Why choose EduTech for BAMS Admission 2023:
Our services are very professional and have an experience of more than 10 years in the medical admission sector.
PAN India Services: Our BAMS admission services are available across the country.
Payments: We offer multiple payment option like Paytm, Gpay, NEFT, IMPS according to the need of student.
24*7 Live Support: We provide live support as well as Phone support for BAMS admissions in UP.