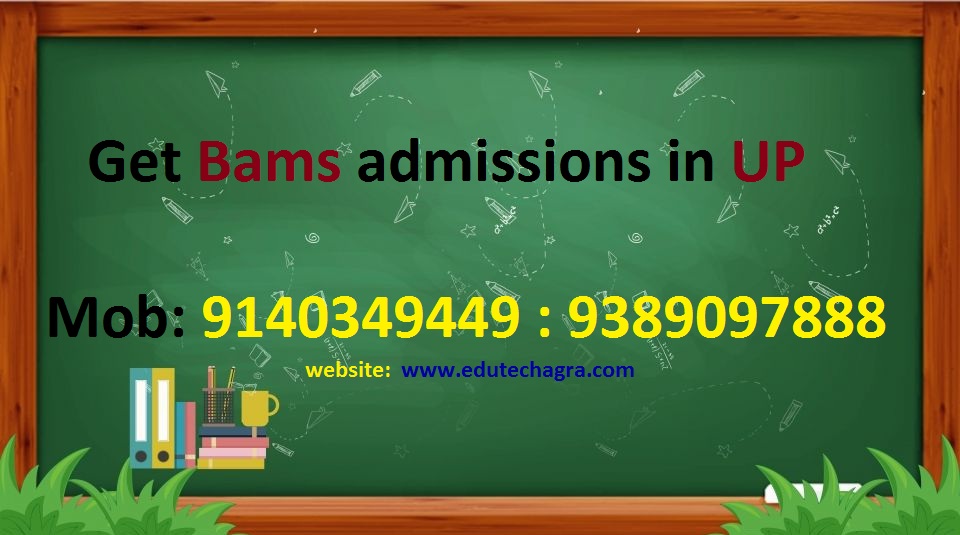 24 Jan

Confirm BAMS & BHMS admission in UP low budget 2023-24 Batch

If you are willing to begin a career in medical and allied sciences then BAMS/BHMS admission consultancy is here to help you pursue your dream and embrace your future with open arms. Definitely, there are many students and aspirants nationwide who get stressed about their career in medical education just after clearing their 10th, 12th exams and hardly conclude to what to do? Or where to start from! Especially candidates and college dropouts who are in preparation for NEET exams seeking admission in BAMS/BHMS must not worry anymore. Mainly those aspirants who dream of a big career invaluable education with the dignified profession.
Our strength is our impartial behavior
Let the candidates be from any category, college, school or city orthose who somehow miss their admissions from past batches, we BAMS/BHSM consultancy is highly committed to provide thorough guidance and career motivation to help them reach their admission procedure without any important skip. We not only make you believe in yourself but stand at your side to encourage you to grab your career through best efforts.
We at BAMS/BHMS admission in UP confirms admission for upcoming batch 2022-23 with complete guidance till you enrol in your college, institute or desired university. Don't get stressed for upcoming BAMS/BHMS admission 2022-23 batch in UP because we are here with our team of experts who will support you and guide you to chase your medical career under your best potential. Our BAMS/BHMS consultancy is here who'll take care of you with all their knowledge and updates. We not only just guide you but will provide complete mentorship towards admission procedure, mop-up-round, filling up admission forms, payment modes, evaluating colleges, and other important proceedings that are necessary towards BAMS Admission.
24X7 Admission BAMS/BHMS guidance
24X7 Payment support and guidance
24X7 Expert Guidance & support
For BAMS/BHMS Admission in UP Contact US via:
Why believe BAMS/BHMS UP Admission Consultancy
Our agency experts not only guide you towards BAMS/BHMS requirements but inspire you through their knowledge & experience they had attain in their career while making other's career shine. We have visions for our candidates and lots of encouragement to support them with our facilitation. We drive our candidates to reach out their admission with their best potential.
Our support & services for BAMS/BHMS Admission in UP 2023
Filling up forms/adding other credentials
Document alignment & verification
Secure & Confidential payment modes
BAMS Requirements & Formalities 2023
BHMS Requirements & Formalities 2023
NEFT, RTGs, IMPS, GPay, PayTM, PhonePay.
Pan India Services & UP Govt. Norms
NEET Rules & Regulations for BAMS/BHMS
Our Aim for BAMS/BHMS Admission aspirants in UP
We aims to help out all the students who wish to have a career in medical science or BAMS/BHMS courses 2023 batch in UP especially those bright student who drop the idea of being a medical expert due to lack of information, guidance, and encouragement. Also students who draw their steps back of being a medical surgeon or doctor just because of shortage of money or budget for the package we tend to produce counselling and guidance for institution that falls in their budget or whichever they can afford.We understand and direct you to chase your Medical career and help you achieve your objectives with full passion and your best skills.
Other essential for BAMS/BHMS Admission in UP 2023 sessions
College counseling & admission Budget
Latest BAMS/BHMS Updates & Alerts
Seats Availability, Allotment& Reserved Criteria
Scheduled Entrance Exams/Percentile Cut-off
Guiding through Mop-Up-Round
Saving from Admission fraud/document swaps
Faculty support & lot more (*for preparation)
Clarity on Syllabus & Admission procedure
Eligibility criteria & Course/Sessions Information
Vacant/Transferred Seats & Stray Round
Whether you're aspiring a career in Medicine & Surgery in Ayurveda or Homeopathy, what you need is a proper guidance and right direction. For BAMS/BHMS admission in UP we are at your service 24X7 with our online/offline team of admission consultants & experts. Also we ensure right guidance to grab the best possible opportunities during your BAMS/BHMS Admission in UP while saving you from admission sham or any document swapping.We promise to stand by your side to support you and provide best consultation for UP BAMS/BHMS Admission this year 2022-23. We just not make you live your dreams but boost your confidence to rise and shine ahead in the future.