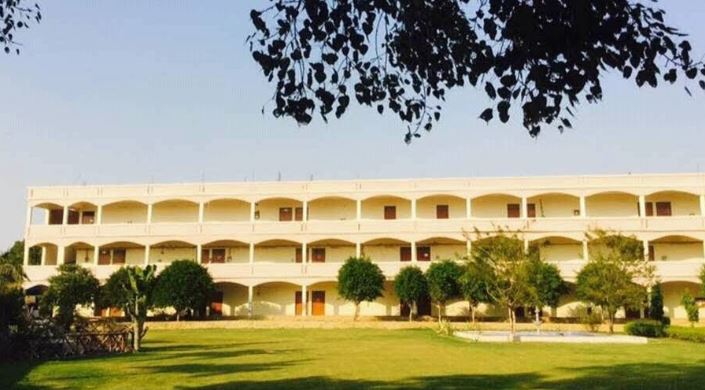 13 Oct

MD Ayurvedic Medical college Agra 2023: Admission, Fees, Eligibility & Counselling

M.D. Ayurvedic College & Hospital is located on Sikandra (near to Agra City) is a premier institute for pursuing BAMS course with a seat intake of 60 students. Although this is a private ayurvedic college but it have all the modern equipments which are required to serve patients properly. The faculty present in M.D. Ayurvedic college is well experienced and emphasis mainly on the core topics of this ayurvedic course. With a strong infrastructure the placements after course completion are almost close to 90 percent.

For admission for academic session 2023-24, contact our B.A.M.S. admission consultant to know all details about the admission procedure, course eligibility, seat intake, fee structure, and NEET counselling process. Don't worry this comprehensive guide is available for medical aspirants who are looking for leading ayurvedic colleges in Uttar Pradesh state.

M.D. Ayurvedic College has spacious and smart classrooms with well-equipped laboratories. The college campus also includes its own canteen facility with huge auditorium and a playground for outdoor activities. The hospital is also present inside the campus which is modern in terms of facilities and also have beds for 60 patients.

Find detailed overview on the counselling process, documents required, hostel fees and career opportunities after completion of course from the M.D. Ayurvedic College:
The first step is to open the official M.D. Ayurvedic College website, where you could obtain all the data pertinent to admissions.
In order to get information about deadlines, minimum standards, and other prerequisites for admission to the BAMS programme, students must first get in touch with the college's admission office.
The third and most important step is the NEET 2023 entrance exam, which is necessary for all students seeking admission for the academic year 2023-2024.
Contact our admissions consultant if you're still not satisfied or want more information about the BAMS curriculum.
Get BAMS Admission in M.D. Ayurvedic College Agra…
Call our consultant at   : 9140349449 Mail us at  : [email protected]
M.D. Ayurvedic College & Hospital, Agra
| | |
| --- | --- |
| College Name | M.D. Ayurvedic College & Hospital |
| Address | Bain Bazar, Sikandra, Agra, Babarpur Mustkil, Uttar Pradesh 282007 |
| Type | Private Ayurvedic College |
| Affiliated with | Mahayogi Guru Gorakhnath AYUSH University, Gorakhpur, Uttar Pradesh. |
| Approved By | NCISM (National Commission for Indian System of Medicine) |
| Course | BAMS |
| Seat Intake | 60 |
| Fee Structure | 2,50,000 |
| Entrance Exam | NEET-UG 2023 |
| Website | www.mdayurvediccollege.in |
Note: The admissions for B.A.M.S course in M.D. Ayurvedic College & Hospital are open now and purely based on the NEET-UG 2023 cut off score, Kindly connect with our ayurvedic admission consultant for all information about admission counseling and form submission.
---
B.A.M.S. Admissions Procedure 2023
The candidates who are interested in applying for admission in M.D. Ayurvedic College & Hospital, Agra have to follow the following steps online which are listed below:
Open upayushcounseling.upsdc.gov.in
Here the NEET 2023 entrance exam roll number and email will required for the registration process.
Once you have filled the required information, simply complete the payment to finalize the registration process.
The registration details and transaction number will be sent to the users using SMS after which the eligibile candidates have to pay the security money.
Now, comes the merit list part which will be published on their official website.
If you are eligibile then please be ready with the required document for further admission process.
BAMS In Agra, College Admissions, Eligibility, Fees and Placements
Required Minimum age –  17 years
10+2 Exams cleared with 50 % in PCB subjects (Physics, Chemistry and Biology)
Document required for BAMScounselling are – Id proof- voter, aadhar or passport, 10+2 and 10 marksheet, character certificate, domicile certificate, 8 to 12 photographs
Fees of the course – contact us for full details
Placement and training cell
Duration of BAMS  – 5 yrs 6 months – 4.5 yrs of regular college and 1 year internship
College Facilities
Hostel – Girls & boys both separate with canteen
Canteen and mess facility
Transport 24×7
Security guards with cctv cameras
Ambulance and emergency services (24×7)
Guest room for people
Training labs with modern equipments
Training and Placement services
Library (12000+ books and latest health journals)
Herbal garden (150+ Species)
High speed Internet
Laboratories
For  Advance Booking of Your BAMS seat in M.D. Ayurvedic College & Hospital, contact our medical admission consultant on below details – Phone number – 9140349449   –  9389097888 
Frequently Asked Questions
Is NEET 2023 entrance examination compulsory for admission in M.D. Ayurvedic College & Hospital?
Yes, NEET cut off is required for BAMS course admission
What is the fees structure of  M.D. Ayurvedic College & Hospital, Agra?
Fee Structure- 2,50,000 per annum (Tution Fee)